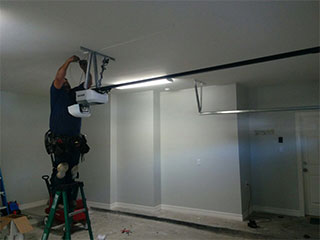 Whether it's a sectional door or an overhead one, these garage systems are very complex, and therefore, a variety of potential things can go wrong with them. We offer a wide variety of repair services, and our professional technicians have dealt with every problem you can imagine.
Opener Repair
This device is the brain telling your door how and when to operate, and it's very important that you regularly check its performance. According to federal standards UL 325, every modern opener must have several basic safety features. These features should be regularly checked with three simple tests: the reversal test, the force setting test and the sensors test. If your system fails any of these tests, call our professional technicians and have them repair the necessary problem.
What You Need to Know About Cables
Both extension and torsion spring systems have operating cables which help move the door up and down. They need to be replaced more frequently than other components, as they suffer through more wear and tear. On the other hand, if your door starts tilting on one side, sometimes a simple adjustment can be enough. Our specialists can take care of that for you. They'll check each spring's tensions, adjust it appropriately or replace it if necessary.
Leave It To The Pros!
You should never hesitate to reach out for expert assistance. Garage doors can pose a great variety of safety and security risks, and one should never try to deal with a problem without the proper training. Don't risk putting yourself in harm's way or exposing yourself to more costly repairs down the road - call our Garage Door Repair Carlsbad experts today and get the best service provider around!
We also offer the following:
Torsion Spring Repair & Replacement
Garage Door Opener Track Maintenance
Overhead Door Installation
Garage Door Cable Replacement