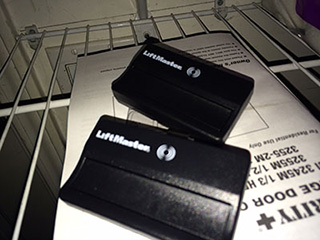 When your garage door suddenly stops working properly, it can be incredibly inconvenient. You can end up late for work or to any important appointment, as you won't be able to get your car out of your garage. It can also prevent you from getting into your garage when you return home afterwards. There are a few common things that can be responsible, and by knowing what those are you can save yourself time and effort by calling professional assistance the moment you notice a problem.
Issues with Your Safety Sensors

If your system thinks there is something blocking its path when there's nothing there, or fails to detect the presence of an actual obstruction, you need to have your safety sensors checked. Don't risk injury to yourself or your family members, treat sensor issues like the serious problem they are. Never attempt to realign them by yourself. These are delicate components that require an expert's touch.

Problems with the Tracks

In order to move smoothly up and down, your garage door has rollers that guide it along its carefully designed tracks. When there are issues with your rollers or your tracks have gotten dented, you'll more than likely need a professional to repair the damage or replace the problematic components.

Upgrading to a New Remote

The process of syncing new remotes with your opener can prove to be more complex than you might think at first. Professionals with experience can help ensure that your new remotes work perfectly. They can also help you install more advanced systems, like a wireless garage door keypad, which could allow your opener to work with your smartphone.

Can't Diagnose the Problem?

If you can't get your garage door to open, it's normal to try and figure out what is wrong with your system. If a cursory inspection doesn't reveal an obvious issue, you definitely need to have a professional take a look at it. That's where we come in. Our expert technicians can handle every type of problem, and we can have your system go back to normal in no time.