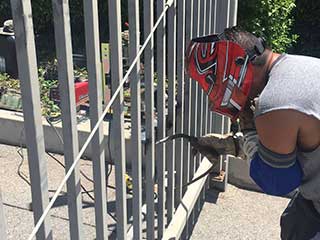 We can fix all types of residential or commercial gates in addition to our garage door repair services. We have an expert team of highly trained technicians that know exactly how to fix all forms of gate malfunction. If you want a new gate and want all aspects assembled perfectly, we can offer full professional installation. Do you have a gate that has stopped working? Whether it's a manual or automatic design, we have the expertise to identify the problem and provide an effective solution.
Fast services
We offer local customers incredibly fast service and call out times. We can arrange our visit around your schedule and arrive exactly when is best for you. No matter how old your gate is or what you think is causing the issue, we can assure you that there is no malfunction we can't fix! Our company has been offering gate repair services for years and many of our team members have the ability to work with all brands and design types.
Full Gate Repair
We can perform a full assessment of your gate to check all of its core parts. We can then ensure that any faulty elements are replaced or repaired and that your gate is built to last for the long term. We have a wealth of experience fixing sliding gates and all kinds of swing gate. We can repair cast iron gates and hinges with professional welding services so that you can be sure a seasoned expert is handling the job. Get in touch with our team today to arrange a call out or for more information regarding your precise circumstances. Avoid the risk of attempting repairs yourself and feel safe in the knowledge that a seasoned professional is handling your repair. Contact us today for more help!